East to West coast Canada.
This is a once in a lifetime gap year adventure to explore Canada. Over three jam-packed months you'll travel from the east to west coast making the most of what Canada has to offer.
Canada is big. The skiing is epic. The lifestyle is unbeatable. There is so much to explore – from big mountains with back country skiing to buzzing cities. With so many unique experiences, this trip has it all.
Immerse yourself in the cultural scene in Canada's top cities, gain your instructor qualifications, and ski in powder that you could only have dreamed of.
A weekend doesn't go by without visiting extraordinary places or experiencing new adventures – all whilst living with some of the best friends you'll ever make.
The ultimate gap adventure – explore the best of Canada, travelling from east to west coast. Visit extraordinary places and new experiences while gaining your instructor qualifications and skiing the best powder days of your life.
3 month trip around Canada filled with adventure and fun
6 weeks on the east coast in Mont Tremblant. An epic resort with quiet slopes and the number 1 voted après ski bar in Canada!
6 weeks on the west coast in Big White. With acres of off-piste to explore, you'll get your powder fix here. Progress your off-piste technique no end.
Live the skier dream with coaching 5 days a week from the best instructors in Canada
Gain your CSIA Level 1 & 2 ski instructor's qualifications
Complete the AST Level 1 avalanche safety course before an unforgettable backcountry skiing trip
Weekend city breaks to Montreal and Quebec City. Experience the largest winter carnival, visit an ice hotel and watch a professional ice hockey game
Activities not to be missed – skidoo tour, igloo building, snowshoeing…the list goes on!
Professional coaching 5 days a week from top level instructors
You'll have coaching throughout the trip from the best instructors across Canada. A total of 300 hours on hill training.
Mentor coach
We have a maximum of 8 students in each class with the possibility of changing groups weekly, ensuring students remain in a group that best suits their ability. You will be allocated an instructor as a personal mentor who is responsible for providing extra support and guidance to ensure maximum progression.
Video analysis
This enhances the coaching process by providing invaluable personal analysis.
Technical sessions
We'll analyse and break down every aspect of your turns – to get them looking fluid and effortless. Expect nothing less than the very best in technical ski lessons!
7 day lift pass for entire season in both resorts
Full season passes provided, including weekends, valid for the entire winter season in both resorts – Mont Tremblant and Big White.
CSIA Level 1 & 2 exam fees
CSIA Level 1 & 2 exam fees are included.
Level 1 AST Avalanche safety training
A 2 day Level 1 AST Avalanche safety training course is included, all whilst exploring the beautiful (and gnarly) back country! All equipment will be provided.
Additional training
Additional training in freestyle, gate training, moguls and powder.
Full accommodation
Accommodation provided throughout the trip. All students live together creating a great community. Speak to us for more specific details about the accommodation in each resort.
Full board
While in Mont Tremblant, breakfast, lunch and freshly prepared evening meals are included every weekday.
At the weekend, when students might like a lie-in, we provide a hot brunch and full evening meal.
While in Big White, no lunches are included.
Weekend trip to Quebec City
Enjoy the picturesque cobbled streets of Quebec City. We visit an ice hotel and night tubing park.
Weekend trip to Montreal
Go to a professional ice hockey game after a day in downtown, trendy Montreal.
Unforgettable outdoor experiences
Every day once off the snow, our reps will have an activity planned for you. From snowshoeing to apres drinks and cross-country skiing, there's never a dull moment!
You'll even learn to build a quinzhee (ice cave) for an outdoor experience like no other.
Snowmobiling
Drive your own snowmobile on an epic excursion through the forest
Weekly social activities and events
Ski le Gap organises a number of different evening events and activities throughout the trip – sports nights, theme nights, pub quizzes, ice-hockey matches, yoga, house parties and much more!
24 hour staffing
A member of the Ski le Gap team is available 24/7. We live in the Ski le Gap accommodation with you and will take care of all of your daily needs. Your biggest stress each day should only be what colour lens to put in your goggles!
Ski le Gap director in resort
We remain a family run company and so a director will be in the resort throughout the season to ensure courses run smoothly.
Airport transfers
Transfer to and from both airports on your arrival and departure dates will be arranged.
Internal flight between Montreal and Kelowna
The internal flight between Montreal and Kelowna is included.
Local bus passes when required
Bus passes will be provided so you have access to downtown, the village and Tremblant resort.
VIP passes and local discounts in shops and bars
12-20% discount available to Ski le Gap students in local shops at the mountain. VIP access to bars and clubs.
Inbound and outbound flights
We will provide advice on the best flights to get you into and out of Canada.
Your internal flight between Montreal and Kelowna is included.
Travel insurance
To attend Ski le Gap you must be comprehensively insured for your entire stay with us. Snow sports coverage is a prerequisite in our terms and conditions, so you must have adequate insurance.
We'd be more than happy to give you advice in this area.
Ski equipment
We recommend buying your equipment in resort, if you don't already have it. Our coaches will give you expert advice on the equipment needed for the course. You will also receive between 15-20% discount.
Visa fees
Without the appropriate visa you will be denied entry into Canada. Visa-exempt foreign nationals who fly to Canada need to have an Electronic Travel Authorisation (eTA), which costs $7.
No lunch when on the west coast and no meals on away trips
You'll be well fed and watered throughout your entire trip, but lunchtimes when you're skiing the West Coast or when you're away on the odd day trip food won't be included – but trust us, you'll want to explore local cuisine!
Spending money
Spending money is not included.
Dates are flexible; please contact us to see if your preferred dates are possible. Prices include everything shown in the 'what's included' tab. Prices are in British Pounds (£GBP). If you would prefer to pay in another currency, please contact us. An additional non-refundable fee of £250 is due upon registration to secure your place.
3rd Jan – 27th March 2024
Kick things off on the East coast.
For the first 6 weeks of this trip you'll settle into life in the Laurentides. Voted the number one ski resort on the east coast, Mont Tremblant has diverse, varied terrain, with breath-taking scenery.
The picturesque resort hasn't lost any of its old-world appeal making it the perfect place to connect with French Canadian culture. Pick up conversational French lesson if you wish. Tremblant has everything you need after an action-packed day on the slopes…shops, bars, restaurants and the best après ski bar!
Spend your days on the slopes with great friends, enjoying the seasonaire lifestyle…it's hard to imagine that you are also learning and gaining useful qualifications at the same time! You'll have the opportunity to gain your CSIA Level 1 instructor's certification.
On the weekends, you'll visit the historic, cobbled streets of Quebec City. Experience the largest winter carnival with ice sculpting and night tubing to enjoy. Explore downtown Montreal and watch a professional ice hockey game – a true Canadian experience, before heading to the west coast for some epic powder days.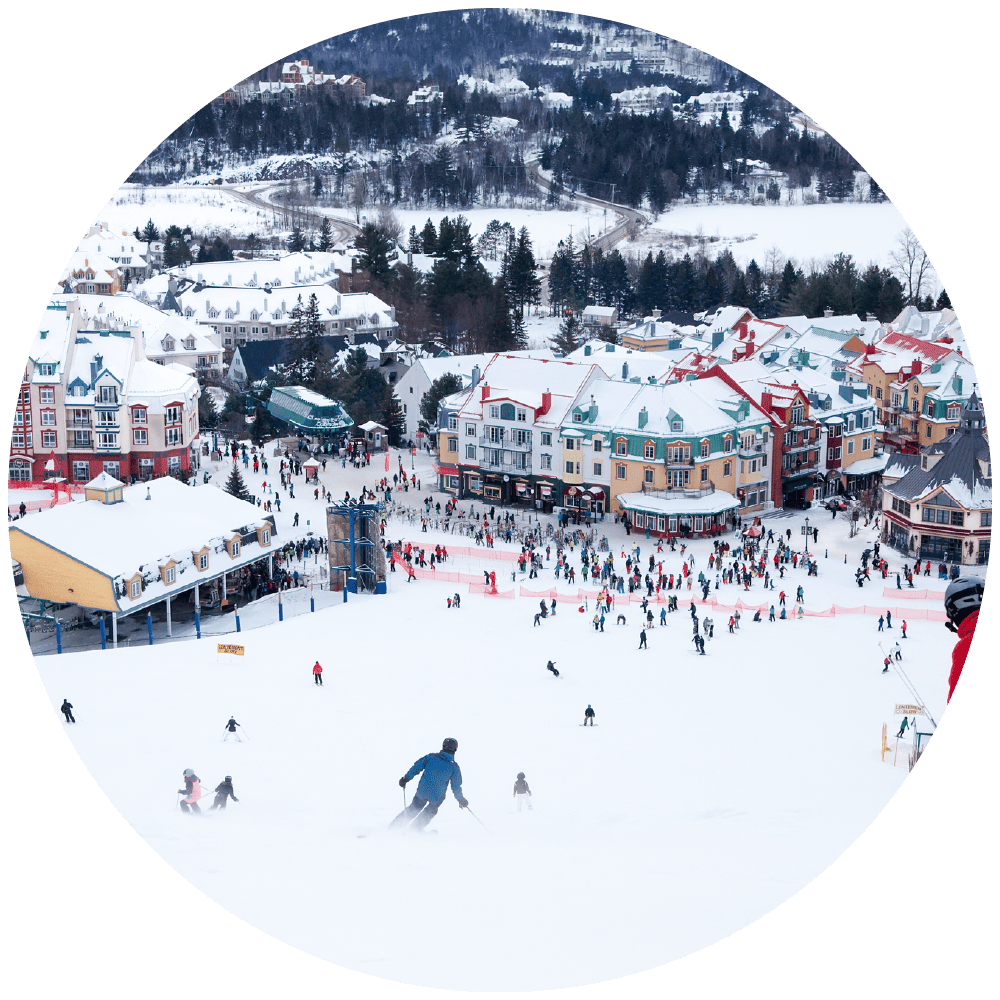 For the second half of this trip, fly all the way across Canada to Big White in beautiful British Columbia to experience a totally different side of Canada.
Renowned for an abundance of champagne powder and quiet slopes, progress your ski technique to the next level and train for your CSIA Level 2. You'll also have the chance to take the AST Level 1 avalanche safety course, before heading into the backcountry with professional guides for the best powder days.
The village of Big White has a fantastic community vibe – you'll be a local in no time! There are lots of winter activities to explore; snowshoe trails, dog sledding, snowmobiling and an epic ice climbing tower. If you're seeking even more adventure, take day trips to Kelowna which is just 45 mins away with lots of shopping, restaurants, micro breweries, trampoline park…the list goes on!
Don't miss out on this epic adventure!
This trip balances on hill training and weekend trips with free time for you to relax or explore at your own pace.
Our reps are on hand the entire time, everything is thought of and taken care of for you to make sure you get the most out of your time with us. You'll benefit from our network and relationships, giving you access to the very best experiences across Canada.