Ski & Snowboard courses

BECOME A SKI OR SNOWBOARD INSTRUCTOR IN CANADA ON YOUR GAP YEAR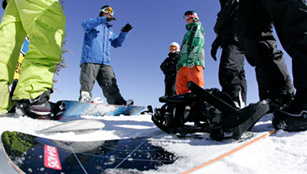 Learn
Train to be a Ski or Snowboard Instructor
With Ski le Gap you can have the ultimate gap year experience. Join us on one of our ski or snowboard training courses and you'll come away as a qualified instructor. Our courses suit everyone from complete novices to more advanced riders. You'll be training with the highest qualified snowsports instructors who are the 'best of the best' skiers and snowboarders. As your dedicated teachers and mentors, they will work with you to develop your skills and achieve an internationally recognised ski or snowboard instructor qualification.

Read more
Ski instructor courses (beginner CSIA Level 1 to CSIA level 3)
Snowboard instructor courses (beginner CASI Level 1 to CASI level 3)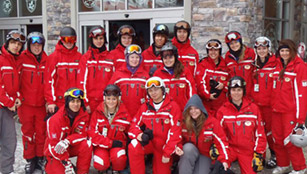 Teach
Teach at the Local Ski School in Canada
Having perfected your technique and gained a teaching qualification, you'll apply what you have learnt by working as an instructor at the local Mont Tremblant snow school, running group lessons. Coaching members of the public, you'll gain leadership and communications skills that are highly valuable, whatever your future career.
The opportunity to teach skiing and snowboarding is a great way to build self-confidence and looks fantastic on your CV!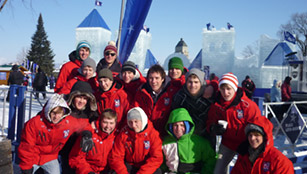 Play
Explore Canada on your Ski Season
With Ski le Gap you get to immerse yourself in the culture of the Canadian experience! We arrange an extensive, fun-packed social programme so you have an amazing time both on and off the snow. Course activities and trips include visits to Montreal, Ottawa, and Quebec City, , French language lessons, winter bushcraft,watching a true Canadian Ice Hockey matchand much more!
Evening socialsare an essential part of the gap year ski experience, and you'll have a blast with your fellow students at fancy dress themed nights, pub quizzes, parties and more.
---
Hi!

We're really excited to welcome you to our family and the ultimate ski instructor training experience.

As the original ski and snowboard instructor training school, established in 1994, we are renowned throughout the world for our all-inclusive ski and snowboard instructor gap year courses.

Our hand-picked expert coaches work exclusively with us and we're proud to have over 3,000 graduates in our Alumi.

You'll have an incredibly fun and sociable experience and we would love to chat through your options. Contact us now or drop by our London office for a friendly chat.
More about Ski le Gap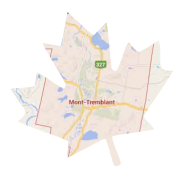 We are based exclusively in one of the world's best ski resorts, Mont Tremblant, Canada. The area is renowned for excellent snow conditions and has a large varied terrain. We've been there for the past 22 years, allowing us to offer a superior quality of service and highly flexible program to suit your needs – tried and tested! Everyone lives together giving a wonderful community feel, and there is always a member of staff on call 24/7 to ensure everything runs smoothly.

We place huge importance on where you call home, and make sure everyone is comfortable, happy and well fed! Accommodation is in twin bedrooms with private bathrooms or single rooms are available if you prefer. All our courses include full board, with home-cooked meals seven days a week.
Our Resort & Accommodation
Quebec - loved it! Really beautiful city, great shopping, great bars and amazing ice sculptures!
Katherine Hoare
Former gapper
Ski Le Gap gave me the opportunity to travel, learn a new skill, and meet people from all over the world. I gained even more confidence as a person than I already had, as well as gaining a thirst to travel to different parts of the world. The experience is definitely one of a kind in its class. The way in which you live train and play forms a real sense of a small community. I didnt have one student or staff member on Ski le Gap that I couldn't relate to in some way or have a conversation with.
Despite the tears and cries for Mummy (and that was just from us!), it really was a week I couldn't have gone without. I learnt to love my kids and it made me realise how much I wanted to do this as a living. Long live Ski le Gap!
My teaching skills I acquired during the course are transferrable and I was able to teach English, for a year, at Moscow's leading private school and the Moscow State University
The After Gap was the perfect way to finish a brilliant three months