The cost of a gap year and how to earn money
Everyone can afford to take a gap year if they want to. How much it will cost you, depends entirely on where you want to go and what you want to do.
Are these questions buzzing around your head?
How much will my gap year cost?
Can I afford a gap year?
How will I earn enough money to travel abroad?
Can I still earn money during COVID lockdowns?
If so, you are not alone. These are some of the most frequently asked questions by students thinking about taking a year out.
The cost of a gap year will vary hugely. Some people choose to stay at home to gain work experience or volunteer with local projects, while others travel abroad. Most people will do a combination of different things throughout the year, each with a different price tag.
The most important thing you can do is plan. Once you have decided where to go and what to do, you can work out how much it is all going to cost.
The more detailed your planning, the better you can budget! Your gap year doesn't have to cost a fortune but don't let the cost of a trip or experience put you off what might be the best personal investment you ever make. If you are prepared to put your mind to it, there are plenty of ways to earn enough to go off on a mega adventure.
An example of how you can earn £6,000 in 3 months
Here's an example of how you can earn enough to do our 4 week Intensive Training course in just 3 months. In fact it leaves you with over £1000 spare – that's a lot of beer money!
Job on minimum wage – £8.20 per hour, £303 per week, £1,212 per month = £3,636
Online paid surveys – £300 per month = £900
Set up a side hustle (for example design and sell packs of cards made from your artwork) – £20/pack to 50 people = £1000
Babysit – once a week for 4hrs = at least £480
Total = £6,018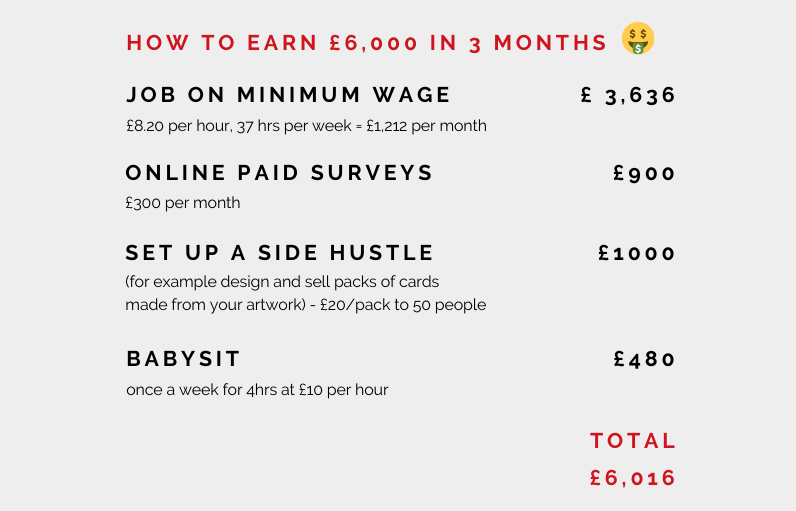 Things to think about when creating a gap year budget:
Find out exactly what is and isn't included in any planned trips. For items not included, research how much extra these are likely to cost you as they can quickly add up. For instance, lots of trips advertise full board but this often only means breakfast and supper 5 days a week. The cost of lunch every day and weekend meals will quickly add up.
Don't be afraid to ask gap year organisations how much extra sending money you might need. For some trips, you'll just need money for drinks and going out, others you might need to pay for extra activities.
Make sure you factor in the cost of any flights, visas, vaccinations and travel insurance.
If you're working while abroad, make sure you think about how much you will earn against your living expenses.
How to earn money for a gap year
A big part of taking a gap year is making money to go off and do the things you'd like to, whether that's joining a trip and/or going solo travelling.
Raising money is part of the challenge. It takes time, determination and enthusiasm. Don't give up! The reward of travelling will make it worth every penny…pardon the pun!
Here are a few suggestions to help you get started:
Perhaps the easiest way to make money – it doesn't need to be glamorous; your motivation is to fund your gap year. Hospitality, secretarial and retail are a great place to start for part time, temporary work. Look out also for seasonal work – for example, fruit picking in the summer. Pick for Britain actively recruit students.
Shout out to an incredible company called Gappi, set up specifically to help school leavers find work during a gap year. There are other places you can search for student jobs, such as Save the Student and UniWrk.
Childcare is a really common gap year job, with lots of work available. If you are qualified, you can also find work abroad as part of any travelling you do.
If you are looking to gain some qualifications in childcare, Freckles have a course designed to take school leavers from babysitter to a confident, qualified and employable Nanny. 70% of their students go on to secure a job within 4 weeks of graduating.
3. Set up a personal enterprise
Write down every talent and skill you have and think about how you can make money from it. For example, are you artistic? Create postcards of your paintings and sell to family and friends. Utilise platforms like Etsy to sell your crafts. Bake brownies and present in personalised packaging. Create a series of work out videos to do at home…the possibilities are endless, get thinking!
4. Clear out and sell stuff online
Not only is decluttering hugely satisfying, you probably have more stuff than you realise. Sell clothing or upcycled furniture you don't want on sites such as Depop or Ebay.
5. Online freelancer jobs
There are websites out there such as Upwork, Freelancer and People Per Hour where you can pick up work in writing and translating, graphic design, programming, IT and admin support – pick work based on the skills you have.
Find part time online tutoring jobs from home in your strength subject with companies like MyTutor. It is well paid and very flexible so you can easily keep teaching for the duration of your gap year and into your time at university.
7. Set up a fundraising page and host fun events
Plan events around hobbies you know your friends and family enjoy, such as pub quizzes, virtual bake off or choir practice! Use a site like 'Go Fund Me' to take donations for participation – this is a great platform to deliver a heartfelt message to help people feel your cause is worthwhile.
The rewards of fundraising are worth all the hard work so give it your best effort – there are plenty of opportunities out there. Maybe slightly cheeky, but always worth a try…pitch it to your parents to see if they will match you pound for pound!
And remember, you can continue to earn money while you are travelling. You can carry on with any online work, such as tutoring and freelance jobs. There are countries where you can easily find paid work as part of your travels. Make sure you have the correct work visa for the country you are going to if you want to earn money while abroad.
For example, if you have the necessary work visa for Canada, as soon as you finish a Ski le Gap course as a newly qualified pro, you can go straight into working for the local ski school. You'll be earning money doing what you love – win win! ?