Snowboard Gap Extra: 2 week Extended Play
At the end of the season many students do not want to go home! Extend the course and stay with us for another two weeks to get the most out of spring boarding and sunny days.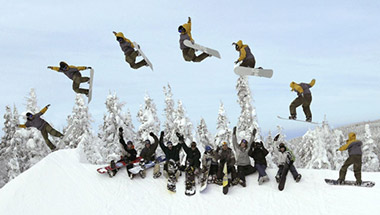 Gain more advanced certificates

Outstanding snowboarders have the opportunity to train for their Level 3

Cross over to skiing and perfect a new skill

Spend the time riding the glades and soaking up the spring sun
The Dream Team - expert tuition
We employ the most highly qualified instructors and they work directly for Ski le Gap – we are not just a branch or department of a local snow school.

Ski le Gap instructors are handpicked from the best in Canada. All our instructors have the highest Canadian qualification and are professional coaches and course examiners – some are amongst the elite who are qualified to examine the very top (examining Level 4's) – these instructors will be teaching you!

They are passionate about their sport and are dedicated teachers.

Every student is allocated a mentor whose job is to ensure maximum personal development and enjoyment so every student feels part of a closely-knit group within the Ski le Gap community.
The all-inclusive nature of our courses is fundamental to Ski le Gap – prices include everything shown in the 'what's included' tab. This ensures everyone can do everything on offer together – you might just want a little beer money!
Weekends are either filled with trips away from Tremblant to experience the Canadian culture or a host of crazy events and activities. Imagine partying it up during a Karaoke contest, a themed 70's Night, or dancing on the tables of the Caribou bar…
We are a family-run business operating exclusively in one resort. This enables us to deliver the best. We have 24 hour staffing onsite, and the director is in resort during the winter season, to ensure the programme exceeds all expectations.
Expert Training
Accommodation
Support
Other
Prices include everything shown in the 'what's included' tab. Prices are in British Pounds (£GBP). If you would prefer to pay in Canadian Dollars ($CAD), please give us a call.
16th March 2019 - 30th March 2019
---
We'd be happy to chat, call us direct on
I used my CADS qualification in New Zealand with a man with MS who was unable to use the right side of his body– it was so personally worthwhile and rewarding to see the look on his face when he was able to ski with his grandchildren
Tubing: more fun than I am sure is advised, necessary or even good for your health
Dhivant Patel
Former gapper
We bought hockey tops to support 'Les Canadians' (and to attract the TV cameras!), cheered Go Habs Go until we were hoarse, drank lots of beer and created the ultimate Mexican wave. An unforgettable night!